Diversion
Diversion exists as an alternative to probation cases where there is no history of the youth having difficulties or record of being involved in the court system.  It is based on the concept that antisocial or illegal juvenile behavior is sometimes an inappropriate response to social, familial, and interpersonal stress.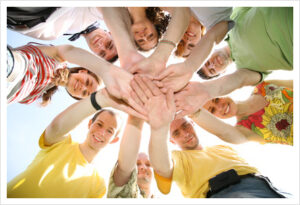 Diversion is designed to provide the juvenile and family with supportive services to assist in alleviating the immediate stress and to help resolve any underlying problems that may have triggered the problematic behavior.  At the same time, it gives the youth the opportunity to prove they can conduct themselves in an appropriate and law abiding manner; thus, avoid acquiring a criminal record.
The Diversion Program may use this Diversion Intake/Unruly Questionnaire form.
Mediation
Mediation is a process that helps parents, caregivers, and schools find a fair and workable solution to a child's behavior or truancy problems.  It is a private, confidential way of communicating that does not focus on blame or fault. 
The mediator is a person who does not take sides and is responsible in assuring everyone has an opportunity to speak, that all sides understand each other, and that both families and schools work together to resolve the troubling issues.
Civil Mediation
Civil Mediation provides a neutral third person to assist individuals experiencing conflicts regarding divorce-settlement issues and/or custody issues in a non-threatening environment outside of the Court.  The process allows for both parties to have input and to reach an agreement that is fair and reasonable to both sides.  The mediator does not take sides or place blame but rather facilitates the process while the individual parties control the outcome.  Once an agreement is determined, the mediator submits it to the Court to make it official.  If the mediation is not successful or the agreement is not adhered to, the case will be referred back to the Court and set for a hearing.
For more information on the above Diversion and Mediation programs, please contact:
Michelle Shafer @ 937-456-2754
Office Physical Location:
118 E. Main St.
Suite B.
Eaton, Ohio 45320
CASA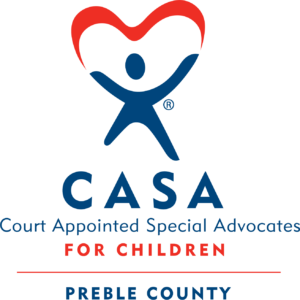 CASA (Court Appointed Special Advocates for Children) are local volunteers serving as the voice of children who are abused or neglected.  These advocates investigate by visiting with the child and interviewing foster parents, parents, and other adults involved in the child's life.  They monitor the child's and parents' involvement with Children Services, attend Juvenile Court hearings and recommend placement and services for the child through a written report.  CASA volunteers serve as a consistent presence in a child's life.
Anyone who is 21 years of age or older with a desire to help kids in Preble County and is willing to spend 2 to 10 hours per month being involved with the child's case is able to become a CASA volunteer.  Such volunteers must attend pre-service training and follow-up with continuing education and pass a background check.
You can find more information and an application to become the voice of a Preble County child here or please contact Debbie Huff @ (937) 456-2885.
RISE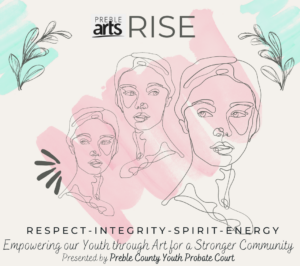 The Preble County Art Association has paired with the Preble County Juvenile Court to establish the RISE program (Respect Integrity Spirit Experience).  This initiative is filled with art and culture, allowing youth in the county to actively participate in the creative process while learning life skills, responsibility, team-work and community development. 
The program is designed to build participant's character including a sense of integrity, responsibility, spirit, and cultural awareness.  RISE focuses on teens in need of guidance and direction, offering a mentoring experience that fosters pride for themselves and the community.
For more information please contact:
Claudia Edwards @ 937-456-3999
Physical location:
207 E. Main Street
Eaton, Ohio 45320
PREBLE SUCCESS PROGRAM

In collaboration with the Butler County Educational Service Center and the Healthier Buckeye Grant and numerous community partners, Preble County Juvenile Court supports the  Preble Success Program.  There is a Success liaison in each of the five school districts within Preble County.  These liaisons work directly with parents or guardians of school-age children to help them access needed resources.
For more information please contact:
Allie Shafer, Community School Liaison & Preble County Success Program Supervisor Email:  [email protected]
Phone- (937)-902-076 or (513)  887-3710
SAFE
The Strength-Based Alternatives in the Family Environment (SAFE) Program is an intensive family-centered intervention service that is delivered in the home and designed to stabilize family functioning. SAFE preserves the safety of the child, family, community and maintains the child in the home. SAFE provides alternative behavior choices to the child and family.
Family functioning is addressed through building family skills in parenting, conflict/crisis resolution, behavior management, and accessing community supports.  Service components include comprehensive assessment of family structure, roles and dynamics, crisis intervention, service coordination, accessing tangible resources and modeling of family skills.
A family preservation case manager will coordinate the implementation of a flexible, individualized and comprehensive service plan.  This plan can include, for example, interventions addressing family dynamics, school support and community functioning.  Intensity of intervention varies according to the needs of the family.   Services begin with an intensive phase, up to 4 times weekly, and then tapering off based on the needs of the family.  Program duration will not exceed 120 days.
The family preservation case manager can be reached at (937) 336-6494. If you cannot reach the family preservation case manager, please email Kelli Ott at [email protected].
Juvenile Court Mentoring Program
The Preble County Juvenile Court is in the process of implementing a Mentoring program for our youth.  This program will be ran similar to the Big Brothers Big Sisters program that is nationally known. 
If you are willing to be a positive role model and a support system for an at-risk youth, please contact the Court at 937-456-8133 for more information.