CASA Job Description
A Preble County CASA (Court Appointed Special Advocate) is a volunteer who is appointed by the Preble County Juvenile Court to ensure that the needs of a child who may have been abused or neglected are met. In order to do this the volunteer must investigate the facts of the case, recommend a course of action to the court, facilitate the resolution of the presenting problems, and monitor progress toward established goals.
Interested in becoming a CASA Volunteer?
If you have any questions or would like to speak to someone before completing the application, please call us at 937-456-2885 or email
[email protected]
.
Qualifications
CASA Volunteers must be at least 21 years of age.
Must successfully pass screening/background check (See screening process).
Successful completion of 30 hour pre-service training program.
Attend a minimum of 12 hours in-service hours annually.
Able to respect and relate to individuals from various backgrounds and cultures in a caring and sensitive manner.
Good oral/written communication skills.
Understands and is willing to commit to a one-year volunteer position serving on a minimum of one (1) assigned case.
Willing to accept supervision, training and evaluation.
Able to provide own transportation.
Must be a dedicated child advocate, willing to learn the best possible means to assure that the needs of the children in the Preble County juvenile justice system are being met.
Requirements
Ability to keep all client and court information confidential
Ability to communicate effectively both orally and in writing
Ability to gather and accurately record factual information
Ability to respect and relate to people from various backgrounds (such as socio-economic, cultural, educational) in a variety of settings
Ability to maintain objectivity
Ability to deal with hostility, anger, and other emotional attitudes-your own and others
A basic understanding of child development
A basic understanding of family relationships
Capability of transporting oneself to a variety of locations
Specific Duties
Upon assignment to a child's case, review the child's records and all available documents to obtain a clear understanding of the child's needs and situation.
Interview the child, parents, family members, foster parents, teachers, social worker and other interested parties to determine the facts and circumstances of the child's situation.
Identify and advocate for the best interest of the child.
Meet with child on a regular basis (monthly) to ensure in-depth knowledge of the case and monitor progress toward the goal of a safe, permanent home.
Advocate for the child's best interest in the community by interfacing with mental health, education and other community systems to assure that the child's needs in these areas are met. Seek cooperative solutions by acting as a facilitator among parties.
Make recommendations for appropriate services for the child, and when appropriate, the child's family.
Monitor implementation of service plans and court orders assuring that court-ordered services are implemented in a timely manner and that review hearings are held in accordance with the law.
Inform the court promptly of important developments in the childs' case through appropriate means as determined by Preble County CASA, court rules and statue.
Determine if a permanent plan has been created for a child.
Maintain complete records about the case, including appointments, interview and information gathered about the child and the child's life circumstances.
Prepare a fact based written report stating findings and recommendations for court hearing, and submit the report no less than 7 days prior to the court hearing.
Appear in court as needed for all hearings and provide testimony when necessary.
Continue follow up contacts with child. Bring any significant changes in the family to the attention of the Preble County CASA staff and the court.
Submit supplementary reports, and make new recommendations as needed at future court hearing, until final disposition
Participate in in-service training.
Benefits to Our CASA Volunteers
You have the ability to impact the life of a child who is in the juvenile justice system as a result of abuse, neglect and/or dependency.
It's an opportunity to interact with all facets of the juvenile justice system and its key players.
You will gain extensive knowledge about child abuse and neglect and the legal and social service systems in Preble County.
You will have an increased awareness of educational opportunities (conferences, workshops, etc.) in the child advocacy and juvenile justice arena.
It is an opportunity to become part of the growing community of child advocates, assuring that all children who need a CASA volunteer will have one.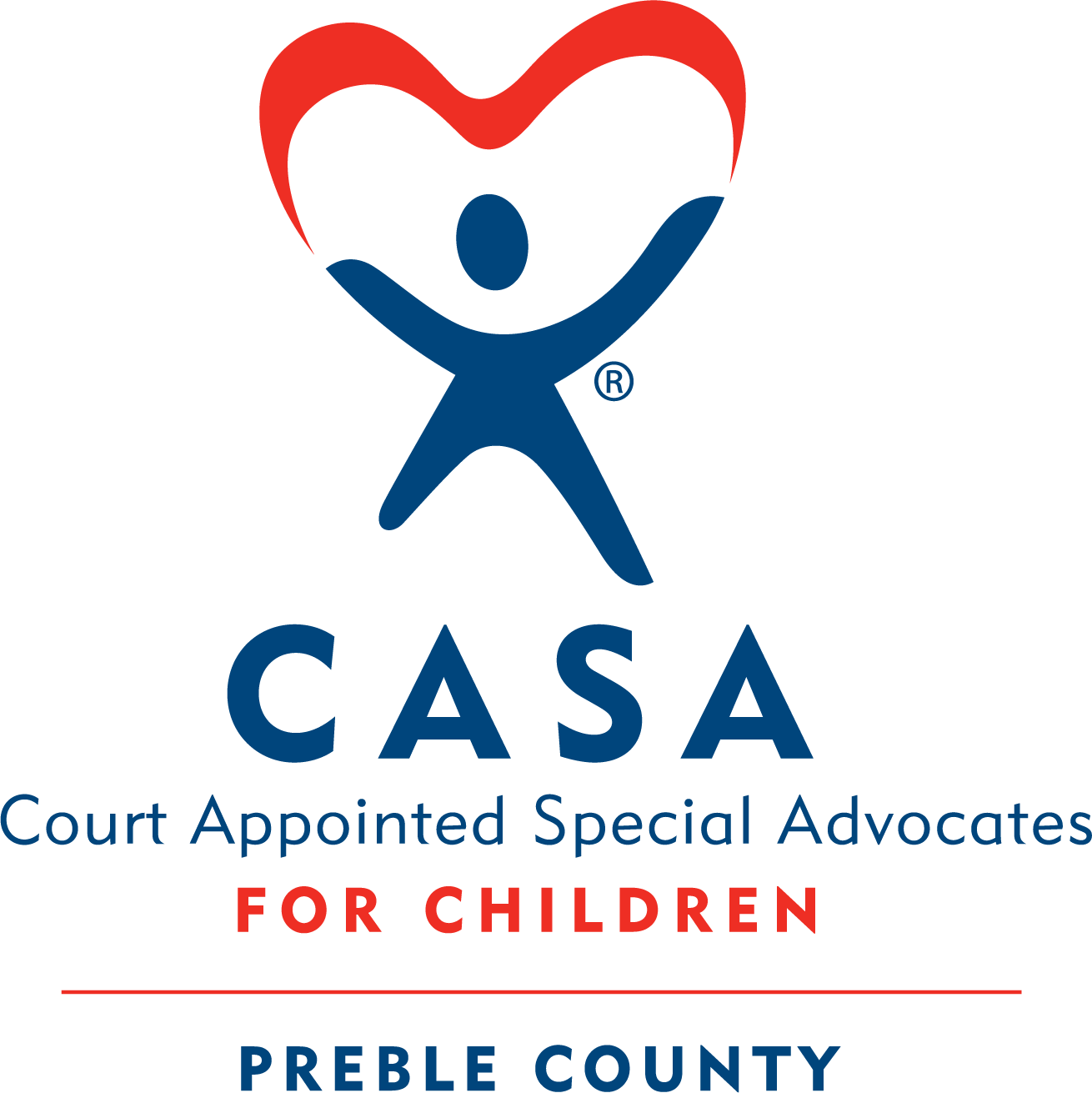 Our Mission
The mission of the Preble County Court Appointed Special Advocate (CASA) program is to recruit, train, guide, monitor and maintain volunteer CASAs who are appointed by the Judge of the Preble County Juvenile Court as volunteer guardians-ad-litem to represent the best interests of abused, neglected or dependent children in Court.